News
Replies
Topics
Assignments
0
By Pridit on Jun 18 2017 05:28 PM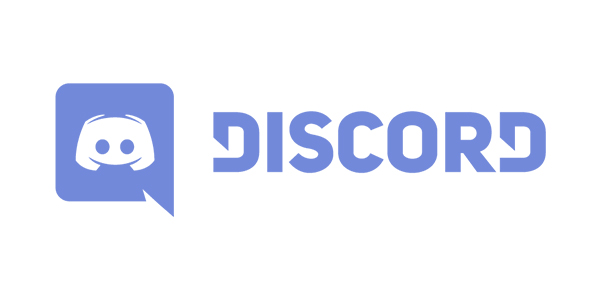 This is just a quick update to let you all know that we have a brand new Discord server set up. It's now never been easier to connect with our dedicated community.
https://discord.gg/KDfrTZ8
If you want to get involved, provide feedback, or otherwise just say hi please feel free to.
By Pridit on Nov 03 2015 09:55 PM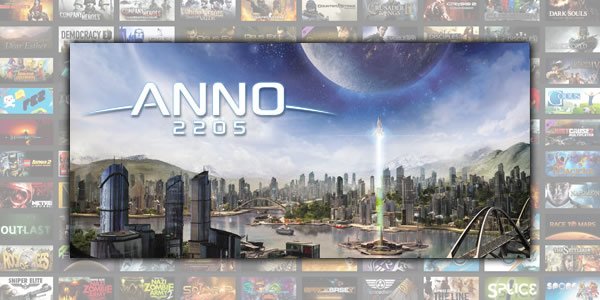 We're giving away two copies of
Anno 2205
!
By Nicereddy on Jun 05 2014 06:55 PM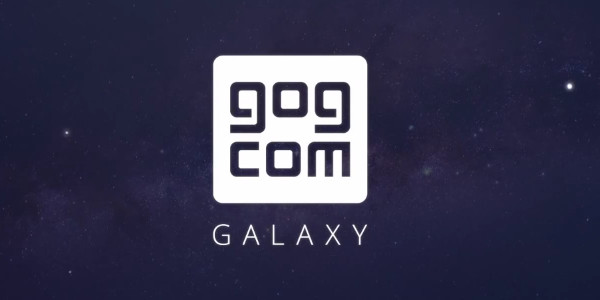 In
today's GOG.com/CD Projekt RED Stream
they announced a new client called "GOG.com Galaxy". They already have the GOG.com Downloader and a "client" which helps update the games you get from GOG, I believe this is just a rebranding of that client. Details are currently sparse, so if anyone has any more information please post it!
By Andytizer on May 27 2014 06:35 PM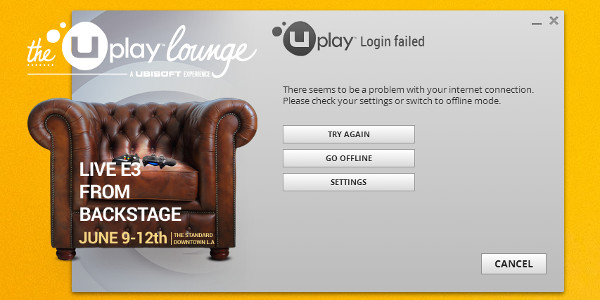 Players looking forward to experiencing Watch Dogs on PC on launch day will be disappointed to find that it's currently impossible to login to the game at all.
Uplay is required to launch the game, and those currently attempting to connect will be faced with the above "Login failed" screen as Uplay authentication servers are being hammered by the usual launch day problems.
By Andytizer on Mar 26 2014 03:55 PM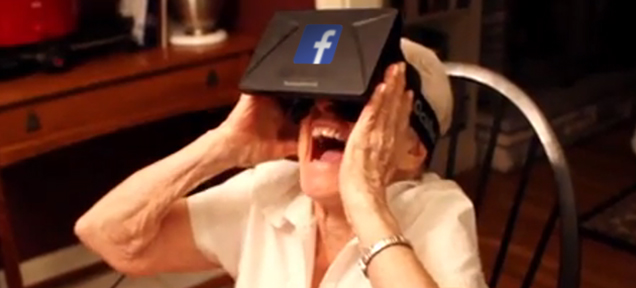 It's been nearly a day and it still hasn't quite sunk in for me. It's enormously disappointing that a crowdfunded independent company that was going to become the next step in PC gaming gets
bought out by Facebook
. Here from Zuckerberg himself:
Immersive gaming will be the first, and Oculus already has big plans here that won't be changing and we hope to accelerate. The Rift is highly anticipated by the gaming community, and there's a lot of interest from developers in building for this platform. We're going to focus on helping Oculus build out their product and develop partnerships to support more games. Oculus will continue operating independently within Facebook to achieve this.

But this is just the start. After games, we're going to make Oculus a platform for many other experiences. Imagine enjoying a court side seat at a game, studying in a classroom of students and teachers all over the world or consulting with a doctor face-to-face -- just by putting on goggles in your home.
What do people think? Is it the end for VR? Will new VR headsets be released to compete with the Oculus (providing that they don't infringe on their patents)? Or will VR and gaming become reinvigorated with this $2 billion cash infusion?
By Andytizer on Feb 19 2014 09:50 AM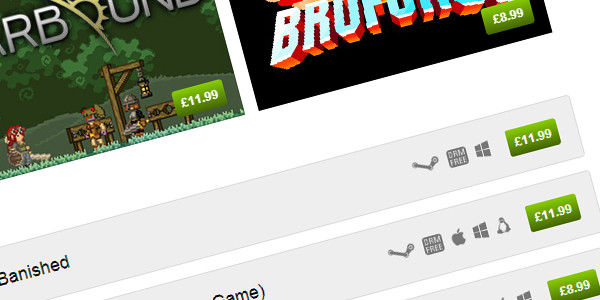 Humble Store announced that regional pricing has now been introduced
for Euro and British territories. Whilst this isn't a shock in itself (and something that Green Man Gaming implemented recently) it is surprising to see that prices mostly match Steam's regional pricing, which means that
European and British users will be charged anything up to 30% more
than what they used to pay under the US dollar pricing.
By Pridit on Jan 16 2014 07:53 PM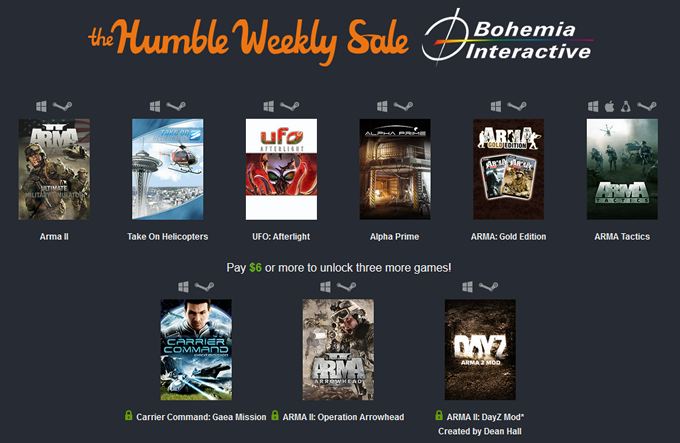 Includes:
-
Arma II
-
Take On Helicopters
-
UFO: Afterlight
- Alpha Prime
-
ARMA: Gold Edition
-
ARMA Tactics
Pay $6 or more:
- Carrier Command: Gaea Mission
-
ARMA II: Operation Arrowhead
-
ARMA II: DayZ Mod
(Free anyway)
https://www.humblebundle.com/weekly
By Andytizer on Nov 27 2013 06:28 PM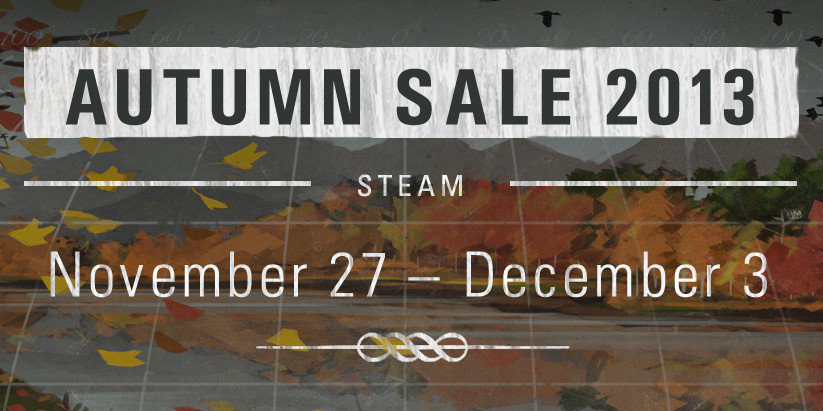 Steam Autumn Sale is now upon us!
We've revived our
Steam Sale sitenotice
and countdown timer. This should help direct people to help improve these pages which a lot of people will be visiting over the next few days.
Let us know what you decide to buy in the comments.
By Andytizer on Nov 26 2013 11:25 PM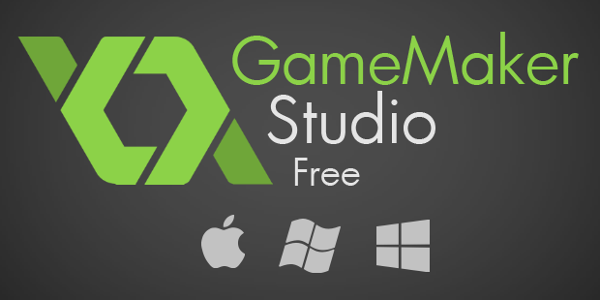 GameMaker Studio
, the game creation toolset and engine, has now become free as part of a temporary promotion. Normally costing $50, this toolset has helped budding indie developers get their first leg up into the industry by providing the basis for fantastic titles such as Stealth Bastard Deluxe, Gunpoint, Hotline Miami, Spelunky Classic, and most recently,
Risk of Rain
.
By Andytizer on Nov 25 2013 06:26 PM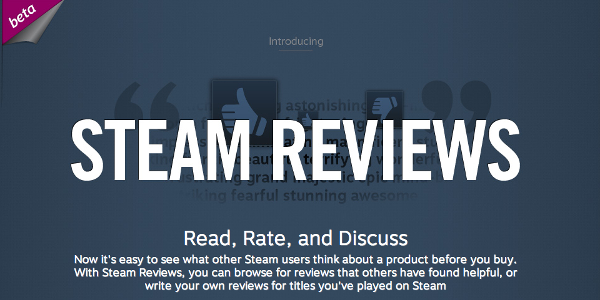 Valve has just announced
Steam Reviews
, a new service that allows Steam users to write, publish and share their reviews of Steam games.