News
Replies
Topics
Assignments
2
PC Report: Sid Meier's Civilization V on Linux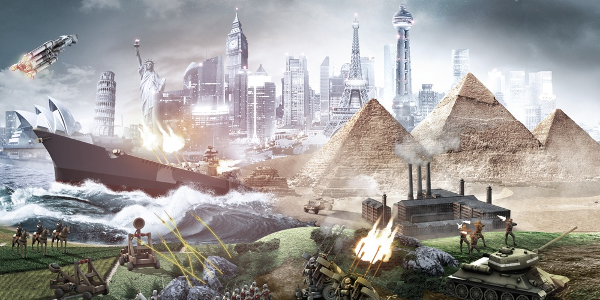 PC Reports are a series of quick first impressions regarding the technical aspects of a PC game. This report was written by PCGamingWiki contributor Soeb. For an up to date account of Civilization V fixes and improvements, please visit its respective PCGamingWiki article.
Sid Meier's Civilization V was first released for Windows on September 21, 2010. This is the fifth game in the series. A Linux version, developed by Aspyr Media, was released on June 10, 2014.
We will be taking a look at how the port compares to the original release.
System requirements
Minimum - Linux
CPU: Intel Core i3, AMD A10
RAM: 4 GB
HDD: 10 GB
GPU: Radeon HD 6450, GeForce 640M, Iris Pro
OS: SteamOS
Minimum - Windows
CPU: Intel Core 2 Duo 1.8 GHz, AMD Athlon X2 64 2.0 GHz
RAM: 2 GB
HDD: 8 GB
GPU: 256 MB ATI HD2600 XT, 256 MB nVidia 7900 GS, Core i3 integrated graphics
OS: Windows XP SP3, Vista SP2, 7
The current system requirements are not final, as the game has so far received limited testing. This accounts, to a degree, for the difference between the Windows and Linux minimum requirements. There are reports of people being able to run the game on cards like the Intel HD4000 and even on such devices as the Acer Chromebook C720, but these are only verified by the community.
The following report is based on the performance of the game on a machine with an Intel Xeon E3-1241v3, 8 GB of RAM, nVidia GTX770 with 2 GB of VRAM and a Kingston HyperX 3K 480GB SSD. The game was running on Windows 7 64-bit and Ubuntu 14.04 64-bit.
Settings comparison
The Linux and OS X releases of the game only match the features of the Direct3D 9 Windows version. This means that certain graphical features are not at all available on Linux or OS X. Not all of those are included in the settings, as some are enabled automatically when playing the Direct3D 11 version. Most notably, features excluded from the Linux and OS X versions are anti-aliasing and higher quality leader scenes. The Linux version additionally lacks GPU texture decoding.
GPU texture decoding was
recently added
to the OS X release of the game, which gives hope that this may also be ported to the Linux release.
The lack of anti-aliasing is the most visible missing feature of the game. Jagged edges are visible at all zoom levels with no anti-aliasing.
Besides this having a very clear effect on tile improvements, aliasing can also be observed on the various units present in the game.
With the setting only going up to
Medium
, the quality of leader scenes' background and lighting is heavily degraded, and to a lesser degree, both the scenes and the leaders are affected by aliasing.
While graphics are not the priority in a strategy game, the omission of these features is noticeable, and sure to annoy those already used to the higher fidelity of the Windows version.
The lack of GPU texture decoding can be felt at all times. Just rolling over the game area, or zooming in/out, one can feel sudden and huge frame rate drops, and the game over-all stutters. However when managing a single area with relatively little movement from the player, the game plays just perfectly fine.
What appears to be the most probable explanation of the lack of these features, is the trip the port took. Originally, the Direct3D 9 version was ported to OS X, because at the time, only OpenGL 3.3 could be targeted on this platform. This meant the omission of a lot of the features, that were only kept for the Direct3D 11 version.
If you'd like to inspect the situation more closely, you can compare all of the above images personally
here
.
Load times
Besides the performance hit taken from the lack of GPU texture decoding, the game is considerably slower to start-up, start a game, or load an old one than on Windows. The difference between the systems, with data gathered from multiple tries of same and comparable late game savegames, start-up in same conditions and generation of the game using the play now button with the same presets can be seen on the chart below.
Initially, I assumed these increases in time could be accounted to the game not being designed for a case-sensitive file system, as neither the Windows or OS X versions had to deal with it. A quick glance at a trace however showed, that the game did not attempt to access files under different names, making this theory unlikely.
We were unable to include performance benchmarks/comparisons, due to the lack of a FRAPS-like tool on Linux.
Compatibility
Due to the nature of being a 3rd-party port, outsourced to an external studio, patches are often only released after the Windows version. During last year, Aspyr has put additional effort into putting out same day patches for OS X, with a
personal goal
of being no later than 2 weeks. Since the release of the Linux version, no patches were released on any systems, so we cannot speak about the situation here.
When a patch was released on Windows, but not on OS X/Linux, there is a period of time in which users cannot play multiplayer games between their OSes. As savegames are not backwards compatible, attempting to use one saved by a newer version on an older version might result in data corruption and a loss of said savegame.
For these reasons, Steam Cloud is separate for each system, meaning you can't easily pick up a game from the desktop and continue on your MacBook on the go, or the Steam Machine in your living room. Thankfully, when no further patches are going to be released, it's
likely
cross-platform Steam cloud support will be enabled, as this will not be a problem any longer.
If you love playing the game with mods, and often make use of the Workshop, you won't be very happy to hear this. Steam Workshop and mods are not currently officially supported, but this is
reportedly
in the works. In the mean time, you can follow
our guide
on using mods on Linux and OS X. But remember, not all mods are guaranteed to work with this method!
Currently many of the various game translations are present on OS X and Linux. You will be able to play the game in the EFIGS languages, but the Russian, Japanese, Korean, Polish and Chinese translations are not yet available.
SteamOS
If you're one of the lucky few who have received a Steam Machine, a Steam Controller, or you've just built your own living room set-up, the game is fully compatible with SteamOS. There are no additional differences when playing on SteamOS, rather than on other Linux distributions, however windowed mode is disabled entirely, as there's no need for it. It appears the game doesn't have native Steam controller support.
Conclusion
Even through the various minor issues, this is a very good port. While the exclusion of some features may be slightly disappointing, we can hope that this first venture into Linux land by Aspyr will cause more ports to be made, and as time goes by, games might have the same features on all systems.
If you're experiencing any issues with the game on either Linux or OS X, it is advised you
report
the bugs directly to the developer.
The developer of the Linux and OS X ports is also working on making the next Civilization game,
Civilization: Beyond Earth
, available for those who do not use Windows.
PC Reports are a series of quick first impressions regarding the technical aspects of a PC game. This report was written by PCGamingWiki contributor Soeb. For an up to date account of Civilization V fixes and improvements, please visit its respective PCGamingWiki article.
LDK, Nicereddy and Leovic like this
2
Article: PC Report: Sid Meier's Civilization V on Linux